Found a couple of very long lists, "1001 Books You Must Read Before You Die" and "1001 Children's Books You Must Read Before You Grow Up". After going through both, I think it's safe to say I'm better read when it comes to childrens books than adult ones. Although, some I might have read and don't remember – or that I am not familiar with the title in English, even if I would have recognised it in Swedish. Not to mention all the ones I've seen as movies without reading the books. Some I didn't even know were books!
Anyway, here are my not-so-impressive results. How many have you read? 🙂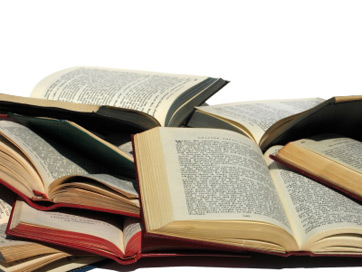 28 Books I Have Read Already
134 Trainspotting – Irvine Welsh
209 The Long Dark Teatime of the Soul – Douglas Adams
210 Dirk Gently's Holistic Detective Agency – Douglas Adams
272 The Color Purple – Alice Walker
301 The Hitchhiker's Guide to the Galaxy – Douglas Adams
411 Wide Sargasso Sea – Jean Rhys
494 The Lord of the Rings – J.R.R. Tolkien
610 The Hobbit – J.R.R. Tolkien
676 Lady Chatterley's Lover – D.H. Lawrence
695 The Murder of Roger Ackroyd – Agatha Christie (I must've read it, I had an Agatha Christie phase)
728 Women in Love – D.H. Lawrence (okay, well, I'm working on it)
820 The Strange Case of Dr. Jekyll and Mr. Hyde – Robert Louis Stevenson
823 King Solomon's Mines – H. Rider Haggard
825 The Adventures of Huckleberry Finn – Mark Twain
831 Treasure Island – Robert Louis Stevenson
887 North and South – Elizabeth Gaskell
891 Villette – Charlotte Brontë
896 Moby-Dick – Herman Melville (although I think I might not have finished it *cough*)
899 Shirley – Charlotte Brontë
901 The Tenant of Wildfell Hall – Anne Brontë
902 Wuthering Heights – Emily Brontë
903 Agnes Grey – Anne Brontë
904 Jane Eyre – Charlotte Brontë
908 The Three Musketeers – Alexandre Dumas (abridged)
913 A Christmas Carol – Charles Dickens
918 Oliver Twist – Charles Dickens
938 Pride and Prejudice – Jane Austen
940 Sense and Sensibility – Jane Austen
Thing is, there are other Austen works on the list, and I'm slightly embarrassed to admit that no, I haven't read them. Yet. I've got them, just haven't yet got around to reading them. That goes for the number of DH Lawrence books on there too, along with Dracula, Frankenstein and Dorian Grey. And some other books I'd like to read but haven't yet, such as Elizabeth Gaskell's.
Funny how like half of them are from the 1800s category.
56 Children's Books I Read Before I Grew Up
01 The Little Engine That Could – Watty Piper / Lois Lenski (1930)
47 The Children of the Forest – Elsa Beskow (1910) (again, I'm pretty sure I must've read this)
49 Winnie-the-Pooh – A. A. Milne / E. H. Shepard (1926)
50 The Story of Babar – Jean de Brunhoff (1931)
79 What Do People Do All Day? – Richard Scarry (1968) (OMG! It's on the list! It's so cute!)
83 Barbapapa – Annette Tison and Talus Taylor (1970)
85 Lotta's Bike – Astrid Lindgren / Ilon Wikland (1971)
117 Pancakes for Findus – Sven Nordqvist (1985)
166 Grimms' Fairy Tales – Jacob and Wilhelm Grimm (1812)
169 The Emperor's New Clothes – Hans Christian Anderson (1837)
170 The Little Mermaid – Hans Christian Anderson (1837)
171 The Ugly Duckling – Hans Christian Anderson (1843)
207 Pippi Longstocking – Astrid Lindgren (1945)
315 Linnea in Monet's Garden – Christina Bjork (pretty sure I've read it)
328 Matilda – Roald Dahl
383 Arabian Nights – Unknown
390 A Christmas Carol – Charles Dickens
398 The Adventures of Tom Sawyer – Mark Twain
399 Black Beauty – Anna Sewell (abridged)
408 Treasure Island – Robert L. Stevenson
409 Adventures of Huck Finn – Mark Twain
417 The Wonderful Wizard of Oz – Lyman Baum
432 Anne of Green Gables – L.M. Montgomery
445 Tintin in the land of the soviets – Herge (isn't that the unfinished one? I've read all the others, and I'm pretty sure I've read that one too)
449 The secret of the old clock – Carolyn Keene (and about 100 others!)
452 Little House in the big woods – Laura Wilder
457 Little House on the Prairie – Laura Wilder
467 The hobbit – J.R. Tolkein
485 Wind on the moon – Eric Linklater (funny, I thought about this book recently)
488 Lucky Luke-Arizona 1880 – Morris (think I've read them all)
503 The Lion, the witch, and the wardrobe – C.S. Lewis
508 Prince Caspian – C.S. Lewis
510 The Voyage of the Dawn Treader – C.S. Lewis
511 The Borrowers – Mary Norton
529 Gaston – Andre Franquin
530 Tom's Midnight Garden – Philippa Pearce
540 Asterix the Gaul – Rene Goscinny
561 Charlie and the Chocolate Factory – Roald Dahl
565 Elidor – Alan Garner
592 The cucumber king – Christine Nostlinger (hated it, that's all I can remember)
599 The brothers lionheart – Astrid Lindgren
623 Ronia, the robber's daughter – Astrid Lindgren
624 The BFG – Roald Dahl
661 Truckers – Terry Pratchett
667 Only you can save mankind – Terry Pratchett
683 Johnny and the bomb – Terry Pratchett
685 Harry Potter and the Philosopher's Stone – J.K. Rowling
697 Harry Potter and the Prisoner of Azkaban – J.K. Rowling
701 Harry Potter and the goblet of fire – J.K. Rowling
746 20,000 Leagues under the Sea – Jules Verne
754 Seven Little Australians – Ethel Turner
801 The Fellowship of the ring – J.R.R. Tolkein
892 Agnes Cecilia – Maria Gripe
894 The secret diary of adrian mole – Sue Townsend
909 Madame Doubtfire – Anne Fine
946 Northern Lights – Philip Pullman
Not an entirely fair list, because I've jotted down a bunch of Swedish books. I could jot down plenty more, as there are just one or two books by authors there and I've read more. For instance, Maria Gripe has written a number of books that I really enjoyed (re-read Tordyveln flyger i skymningen not that long ago after a number of years and still absolutely loved it), and only three of Astrid Lindgren's books are on there. (The book about Lotta I don't get. Why is that whiny brat on there when Madicken, Emil, Mio, the children of Bullerbyn or Kalle Blomkvist aren't? The Lionhearts, Pippi and Ronia, yes, definitely, but Lotta?!) Viveca Lärn/Sundvall isn't on the list, nor is Olov Svedelid (his historical books I'm likely to wax lyrical about at some point). I'm just amazed so many Swedish authors got on the list, because I don't recognise many other "foreign" authors (i.e. non-English language originals) on there.
They also can't spell Tolkien. Bahhh. How hard can it be? T-O-L-K-I-E-N. Maybe because of the pronounciation in English? It's more "tol-keen" whereas in Swedish, we pronounce it more like "tol-kee-yen", which might be why I don't see why it's so difficult to not spell it "Tolkein".
After a few Philip Pullman books, I was beginning to wonder why on earth His Dark Materials wasn't on the list when it's an absolutely amazing trilogy, and then finally, at 946 it was there. I should re-read them. Maybe that will make up for the fact that Twilight is on the list as well. That's the thing, some authors I've read books from, just not those books. For instance, not really read the Five books, but I've read several of the Adventure and St. Claire books. Ach, and where's Gordon Korman? Growing up wouldn't have been the same without reading about the antics at Macdonald Hall!
I've just realised what time it is. Bed calls. Got work in the morning … and Spooks in the evening! And after that, Lucas North is coming over for tea. And possibly Horlicks and donuts. Teehee. I don't really know who's behind that Twitter account (certainly not Richard Armitage), but it's good fun pretending to talk to a certain handsome spy. 😀 And in true Animaniacs fashion, I say: Good night, everybody!