The Awl has posted a list of 111 Male Characters Of British Literature, In Order Of Bangability. (Thanks for posting about it in the forum, rhubarbsmom!)
First of all, let's correct the image they use to illustrate the article, as they've chosen number THREE on the list as opposed to number one. Can't have that now, can we?
There we go. MUCH better. Order is restored.
Ta-daaaah!! Mr. Rochester of Jane Eyre made number one! 😀 Congratulations on your impeccable taste, Carrie Frye! Of course he is the most bangable character in British literature. Here are some reflections on selected parts of the rest of the list:
There are a number of Shakespearian characters, but a greater number of Dickensians. Must read some of those novels, especially now that they say the characters are downright bangable! I'm skipping all the blokes from Mansfield Park, because their names mean very little to me as of yet. Frankenstein's Monster, as opposed to the good doctor is #111. A Wodehousian sneaks in at #106 (also on the to-do list, and I do mean that as in I'm going to read P.G. Wodehouse, not actually "do" the fictional Gussie Fink-Nottle), and a Joycian at #78 (again, also on the to-READ list).
Jason Isaacs as Hook, yum.
Captain Hook (51) is more bangable than Peter Pan (68), Long John Silver (67), the bloke from 1984 (61), but an incarnation of Robin Hood is at 44. Dorian Gray (49) was a bit of a slut, it has to be said, but if you're cursed to look like Ben Barnes, who can blame women for falling for you? Sherlock Holmes (19) beats Watson (96). Aww, really? Even Willy Wonka is on the list (95) – one has to ask: would that be Johnny Depp or Gene Wilder?
Of the Austensians I'm not skipping: Edward Ferrars (93) is only slightly less appealing than Colonel Brandon (92). Charles Bingley (80) is also not doing terribly well, but Captain Wentworth (54) is doing a lot better. Well, I can see why. Ciarán Hinds or Rupert Penry-Jones vs what's-his-face? Exactly. John Willoughby (30) is doing better, but of course not as good as dear old Fitzwilliam Darcy (3). Three! Beaten by Edward Fairfax Rochester (swoon) and … Aragorn. Which brings us on to Tolkien. The only one I'm interested in there is at 101: Thorin Oakenshield. Just wait until the movie comes out – with Richard Armitage behind the beard, that number is bound to improve! – Speaking of which, why is Gaskell's John Thornton not on the list? 🙁
"Dear Madam, I'm shocked not to have been included on your list.
Please rectify this dispicable error immediately. Yours truly, J.T."
I'm thrilled that Sir Brian de Bois-Guilbert (25) beat Sir Fancy-Pants of Ivanhoe (73). I quite agree. Mind you, I have only seen the 1982 adaptation and Sir Brian is played by Sam Neill in that one. And he, of course once did a screen test as James Bond (23).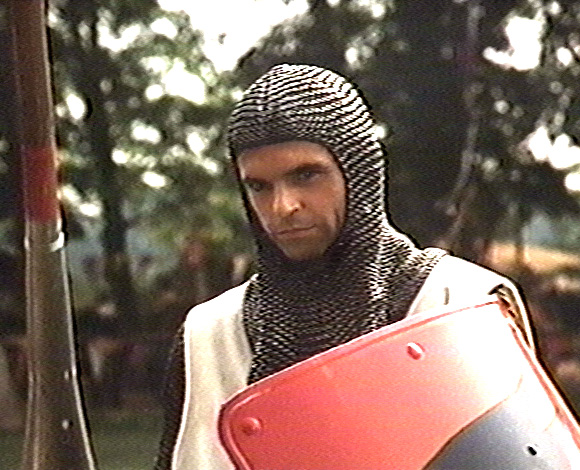 "I make chainmail look sexy!"
Hats off for Oliver Mellors (8), who proves that a ginger lad from Derbyshire can win the hearts of many a lady, not just that of Connie Chatterley. Perhaps because he's been portrayed by Sean Bean, which makes me wonder why on earth Boromir wasn't listed. Aragorn? Peh. Worryingly, Heathcliff made #12. Unless they now mean "bangable" as in "characters most likely to bang your head in with a fence post and then cry about it for the rest of his miserable life".
The biggest WTF?! of the list is #32: Aslan. Think about that one for a sec. Aslan. Not dreamy Peter or handsome Caspian … but the freakin' lion. Speaking of beastiality – or is it beastiality if it's an animagus? The Potter boys! No, not Harry or Ron, but Sirius Black (26), Severus Snape (33 – and I hear some of my friends screaming in agony over him not being higher up the list right about … now), and Remus Lupin (37). With the latter one, I'd do him in a heartbeat. 37 is way too high up the list.
Jacob Black, suck my claws.
To finish off, another couple of Charlotte's boys: St. John Rivers (38) – really? Well, if you like popsicles, maybe. (Is this a Twilight reference? Why else would you want to shag him?) #46 is mistakenly down as "M. Héger" – he was probably the real-life inspiration to the character in Villette, but the guy in the book is called M. Emanuel. Still, yes, definitely. Brilliant character.
So that was a bit of Sunday night fun. 🙂
If you made your own list, who would be in your top five?