I was curious to find out if there was going to be a third series of Horrible Histories, so I asked tweeting actors Laurence Rickard (@Lazbotron) and Ben Willbond (@benwillbond) about it, and one of them was kind enough to confirm it:
@the_squeee Thank you please. Series 3 should be appearing on TVs some time in May.
HOORAY! Can't wait! 😀
Thank you so much for answering the question, Mr. Rickard! In fact, thank you for just responding at all! First time I've ever had a response from a celeb tweeter, so I'm all tingly now. Yeah, I'm silly like that, sorry, but it just made my day. Laurence Rickard responded to my tweet. Squeee!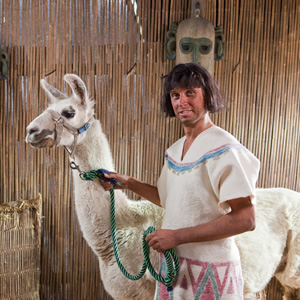 "Stay calmer when you want to harm a llama, call a llama farmer!"
Oh, and a P.S. Series 2 of Horrible Histories is available for pre-order from Amazon UK. It's released 2 May 2011. So yay for that as well! 😀