One of the interesting comments Richard Armitage was when an interviewer asked him, because he's a great dancer, is if we'd ever see him on something like Strictly Come Dancing. His response was that we'd never get to see Richard Armitage as Richard Armitage on TV. Basically, he's not the kind of celebrity to show up as soon as someone waves an invite to a reality TV show.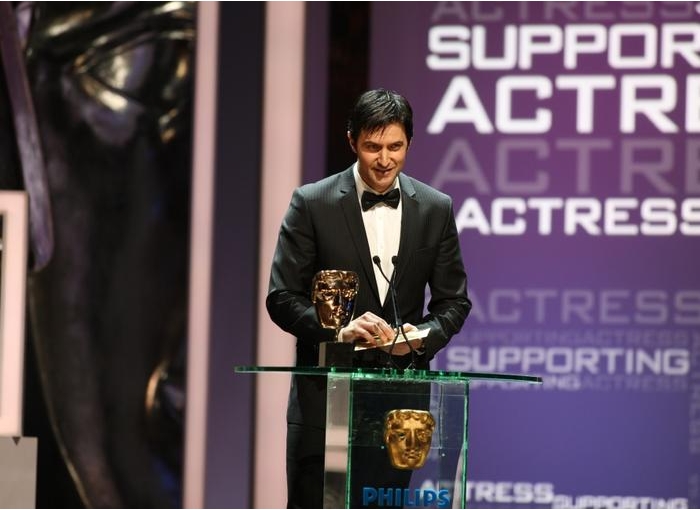 Richard Armitage as himself. On telly. But not in a reality show.
Things that make me love and respect the man: +1!
Before I read that interview, I was thinking about him on Strictly, and then started to think of a host of other reality TV shows and whether or not he would be a suitable candidate. This is what I came up with …
Top Gear
What it is: This is a car show, or … a comedy show with cars in, depending on how you look at it. Rupert Penry-Jones and Peter Firth came on it to promote series 7 (?) of Spooks, so why not Richard Armitage? He does drive a car, after all …
Why he should be in it: Who doesn't want to be on Top Gear? It's a brilliant show! It's fun, it's lighthearted, not too uncomfortable – unless Jeremy Clarkson starts hitting on you, but he tends to save that for female guests. 😉
Why he should stay away: They'd take the micky out of him for preferring to drive an old banger rather than the grey convertible BMW that he bought a few years back. And for being a BMW driver, but that's another post entirely!
Likelihood of him appearing: I don't really see why not? It would of course have to be because he's promoting something, rather than just coming on for the fun of it, but still. It could definitely work.
---
Strictly Come Dancing
What it is: A show where a celebrity gets paired up with a professional dancer and perform dance routines together.
Why he should be in it: The man's a dancer. He'd move with grace and those of us who haven't been bothered watching it before will now be watching and phone in to vote for him.
Why he should stay away: Sequins. Plus it would take too much time out of his busy schedule.
Likelihood of him appearing: Not a chance! He's already said as much.
---
Celebrity Dancing on Ice
What it is: See Strictly Come Dancing. Add an ice rink and skates.
Why he should be in it: See above.
Why he should stay away: Sequins again, plus the schedule thing, plus we don't want him to catch a cold in the arena and also, skates are so darn uncomfortable!
Likelihood of him appearing: Minus 18 degrees.
---
I'm a Celebrity, Get Me Out of Here!
What it is: A group of Z-list "celebrities" get thrown off a plane into the Australian jungle and then have to survive the jungle, each other and have to suffer copious amounts of creepy crawlies and eat kangaroo's testicles, grilled spiders and that sort of thing.
Why he should be in it: There is no reason. He's a real celebrity. This show does not apply to him. 😛
Why he should stay away: Seriously, did you miss the description? Go back and read it again. Do not question this ever again!
Likelihood of him appearing: Absolutely nil, thank gods.
---
Celebrity Masterchef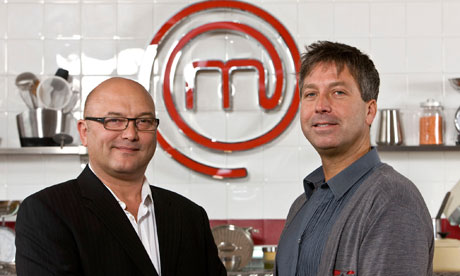 What it is: "Cooking doesn't get tougher than this!" that bald bloke keeps saying, and it's basically a cooking show. Celebrities get to try out being the best amateur chef. Not to be confused with Australian Masterchef, which took the British idea and made it a heck of a lot more interesting to watch.
Why he should be in it: He likes food, he likes cooking, it would be a competitive thing with lots of pressure. Sounds like he might actually enjoy it.
Why he should stay away: I can see no real reason not to.
Likelihood of him appearing: Way too low for my liking. But to make up for this, tomorrow, the FanstRAvaganza topic will be Richard & food. 😉
---
Celebrity Come Dine With Me
What it is: Four people take turns hosting a dinner party for the other participants. Then they score each other on cooking skills and hosting abilities.
Why he should be in it: He'd charm the socks off and win by default because any women there would give him ten out of ten simply for being himself.
Why he should stay away: He'd most likely have to put up with three complete media hungry idiots.
Likelihood of him appearing: Pretty much … none.
---
Celebrity Big Brother
What it is: A bunch of celebs get thrown into a house with constant surveillance and make complete fools of themselves for a set amount of time, or until they get voted off by the British public.
Why he should be in it: 24 hours of cameras and microphones constantly on. (Yeah, I'll admit this a whole lot more for our pleasure than it would be for his!)
Why he should stay away: His privacy would get so invaded he wouldn't know what to do with himself and the other housemates would find his quiet awkwardness as him being an arrogant snob and it would all go pear-shaped.
Likelihood of him appearing: NONE! HAH! They cancelled the show! 😀
Can you think of any more celebrity reality TV shows you'd like (or would hate) to see Richard do?
---
This post is part of FanstRAvaganza 2, a Richard Armitage fanblogging event running 14-21 March 2011. See all FanstRAvaganza posts from this blog.
This year's other participants: An RA viewer's perspective from 33°0'S of the equator, Avalon's Blog, CDoart, Confessions of a Watcher, From the Quill Tip, Me + Richard, Mesmered's Blog, Nevermind, Mr. Armitage, Phylly's Faves, RA Frenzy, The RA Fan Blog, RA Vids & Graphics, The Spooks Fan Blog, and White Rose Writing.